Key Specifications / Features
Valve Limited Switch Features
: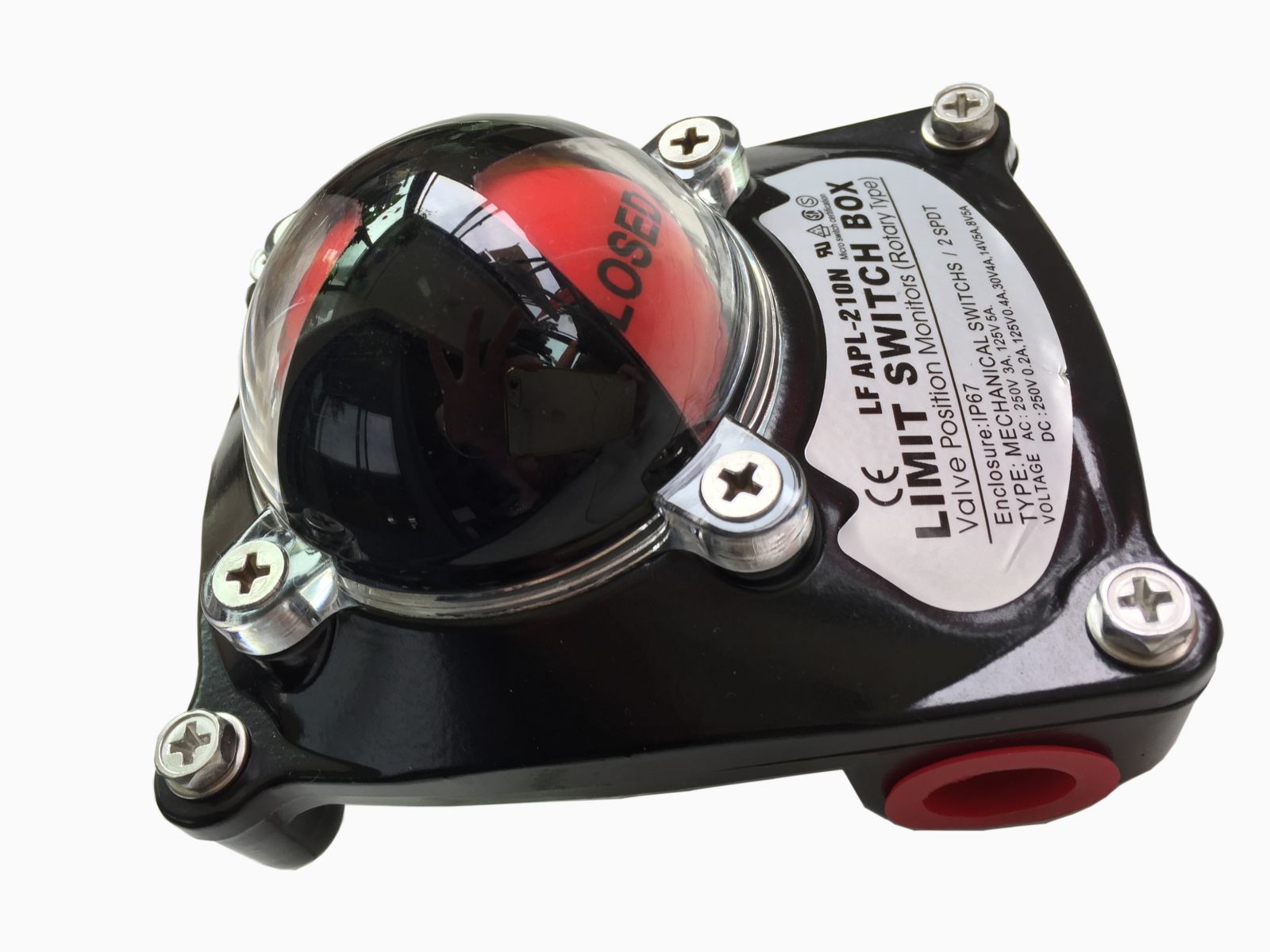 -Solid and compact design.
Aluminium die-casting housing and powder coating.
-Bolts on visual position indicator.
-Quick-set" cam
Spring loaded splined cam.
No need to adjust again after initial setting.
Easy setting without tool.
-Dual cable entries.
2 x 1/2 NPT(Standard ) M20,PG13.5,PF1/2",PT1/2".(Option).
-Captive cover bolts.
worry to loose bolts while cover open.
-Easy mounting bracket.
NAMUR standard stainless steel shaft and bracket.
SPECIFICATION
STANDARD
OPTION
MATERIAL
Enclosure
Weatherproof IP67/NEo MA4&4X
IP 68
Housing cover&body
Aluminium die casting
Ambient temperature
-20 ℃ ~ 80 ℃



Shaft
Stainless steel
Indicator cover
Polycarbonate
Conduit entries
Two NPT1/2"
Two PF1/2",PT1/2" M20,PG13.5
Indicator
ABS/Polycarbonate
Terminal Strips
8 points (0.08-2.5mm²)
Cam
Polycarbonate
Position indicator
0° ~ 90° (90° turn free join)
close:red open:yellow
0 ~ 90° close:red
open:green
Spring
Stainless steel
Housing cover bolt
Stainless steel
Switches
Mechanical switch x2
proximity sensor x2
O -ring
NBR
Bushing
Bronze

External coating

Polyester podwer coating(black)
Nylon others on request
red,green,blue, yellow,silver,
E-ring(shaft)
Stainless steel
Earth lug
Stainless steel
Shaft
Standard shaft(83mm/16mm)
Option shaft(FREE)
Bracket
Stainless steel
Position indicator


Re-adjustment available upon required direction

Conduit entries
Cable entry due to length and thickness


90° Closed or Open for rotary application
90°Open or Closed for rotary application
45° Open or Closed for linear application


Captive cover bolts
cover bolts are specially designed to
prevent loosing it during maintenance or
installation.

Switch Specifition
Mechanical switch (2SPDT) APL-210N
Proximity sensor APL-220N
Standard switch : SS5GL(Omron)
2SPDT switches (option: spst-nc, spst-no)
Contact arrangement: 250V AC/3A, 125V AC/5A
250VDC/0.2A , 125VDC/0.4A, 30VDC/4A,
Optional switch: SS10GL(Omron)
2SPDT switches (option: spst-nc, spst-no)
Contact arrangement: 250V AC/10.1A, 125V AC/10.1A
250VDC/0.2A , 125VDC/0.4A, 30VDC/4A,
Approved standards:UL,CSA,SEMKO,SEV EN61058-1

Standard sensor : NJ2-V3-N (P&F)
Inductive proximity sensor (intrinsically safe)
Voltage range: 8V DC ( IP67 to IEC 60529)
Operating distance: 2mm
Optional sensor EMC to EN60947-5-2
NBB2-V3-E2/E3(PNP): 10 - 30V DC Operating distance: 2mm
NBB2-V3-E0 (NPN): 10 - 30V DC Operating distance: 2mm
NBB3-V3-Z4/Z5: 5 - 60V DC Operating distance: 3mm



Bracket ( NAMUR Standard )
Model No
Material
Application

MBP-100
Stainless steel
30x80 h20
MBP-200
Stainless steel
30x80 h30
MBP-300
Stainless steel
30x130 h30
MBP-400
Stainless steel
30x130 h50