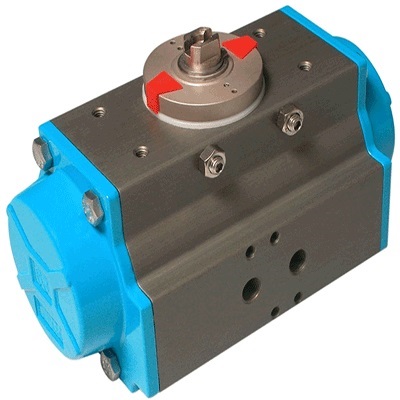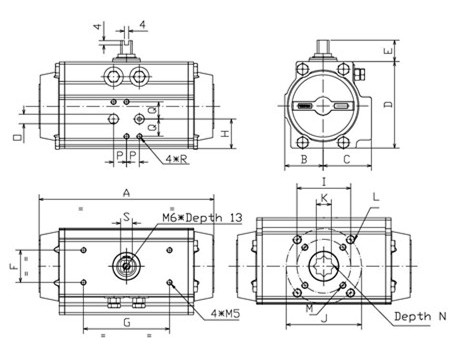 Pneumatic Valve Actuator Analysis diagram



Pneumatic Valve Actuator Description
:
14 Types ( DA 32- DA 270 ).
Offering a broad range of pneumatic rack & pinion actuators.
The ports are NAMUR standard for easy solenoid valve connection.
ISO 5211 dimensions on all sizes.
All internal and external surfaces are anodized for corrosion resistance.
Actuator have a regulation range from-4° to +4°.
Shaft bearings isolate the pinion gear from the housing and support the shaft for high cycle.
Actuator can be lifted on many styles of quarter-turn valve, including ball, butterfly and plug and dampers.
Pneumatic Valve Actuator Operation
:
Working pressure: 2.5 Bar – 8 Bar.
Working Temputure:
Standard range: -20℃ - +80℃.
Low temperature range: -40℃ - +80℃(HNBR).
High temperature range: -20℃ - +150℃(vition).
Factory lubricated for life under normal vorking.
Operating media – Dry or lubricated air, non-corrosive and inert gas or light hydraulic oil.
Angle of rotation: 0° to -90°± 4°.
MOD.
ISO5211
A
B
C
D
E
F
G
H
I
J
K
L
M
N
O
ISO7/1
P
Q
R
S
50
FO3-FO5
138
30
41
69.5
20
30
80
26.5
36
50
11
M6*9
M5*7.5
12
1/8''
12
16
M5*7
11
63
FO5-FO7
162
35.5
45
80.5
20
30
80
27.5
50
70
14
M8*12
M6*8
16
1/8''
12
16
M5*7
11
75
FO5-FO7
208
42
52.5
97
20
30
80
35
50
70
17
M8*12
M6*8
19
1/8''
12
16
M5*7
17
88
FO5-FO7
245
49
60
115.5
20
30
80
46
50
70
17
M8*12
M6*8
19
1/8''
12
16
M5*7
17
100
FO7-FO10
266
55
68
121.5
20
30
80
50
70
102
17
M10*14
M8*12
20.5
1/4''
12
16
M5*7
17
115
FO7-FO10
310
64
73
141.5
30
30
130
50
70
102
22
M10*14
M8*12
24
1/4''
12
16
M5*7
17
125
FO7-FO10
340
68
80
153.5
30
30
130
61
70
102
22
M10*14
M10*15
24
1/4''
12
16
M5*7
22
145
FO10-FO12
401
78.5
90
179
30
30
130
73
102
125
27
M12*18
M10*15
29
1/4''
12
16
M5*7
22
160
FO10-FO12
430
86.5
100
192
30
30
130
83.5
102
125
27
M12*18
M16*25
29
1/4''
12
16
M5*7
27
180
F14
482
102
102
222
30
30
130
60
140
---
36
---
M16*25
39
1/4''
12
16
M5*7
27
200
F14
532
112
112
244
30
30
130
63
140
---
36
---
M20*30
39
1/4''
12
16
M5*7
30
240
F16
662
133
133
288
30
30
130
85
165
---
46
---
M20*30
49
3/8''
20
22.5
M6*8
30
270
F16
730
153
153
323
30
30
130
106
165
---
46
---
---
49
1/2''
20
22.5
M6*8
30